Welcome
Welcome to the freshwaterecology.info database. Here you can find autecological characteristics, ecological preferences and biological traits as well as distribution patterns of more than 20,000 European freshwater organisms belonging to fish, macro-invertebrates, macrophytes, diatoms and phytoplankton.
The ecology data feature distributional parameters (e.g. ecoregional distribution or endemism, etc.), regional parameters (e.g. stream zonation or altitudinal preference, etc.), habitat parameters (e.g. temperature or substrate preference, etc.) or life related parameters (e.g. feeding type or life duration, etc.) and others. All ecological parameters can be individually combined and queried.
Organism groups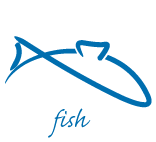 Query your preferred organism group. Query more than one ecological parameter. Define special interests and features.
Tools

Find your freshwater organism and its ecological preferences (» Quick Search).
Create your standardised taxalist for each of the organism groups and enter data for up to 230 samples (» TET - Taxa Entry Tool).
Upload your taxalist, validate it and export your taxa including selected ecological parameters (» TVT - Taxa Validation Tool).
Login and contact
The data presented on this website result from various EU-funded projects. We encourage a broad use of the data for purposes in science and water management. Before accessing the majority of the data, however, we kindly ask you to register, you will then get a username and a password. This procedure will ensure that we can notify you of major updates of the database. Please go to » Registration for your personal login.
The freshwaterecology.info database is a "living document" and therefore permanently under improvement. If you want to contribute to the database, detect any error, encounter problems during the query process or have any suggestion for improvemen regarding design, content, user-friendliness and accessibility, please feel free to contact » Astrid Schmidt-Kloiber (astrid.schmidt-kloiber@boku.ac.at)
Citation
To acknowledge the extensive work of our experts PLEASE ALWAYS CITE the database CORRECTLY!!! We provide all kind of small tools to create the correct citations that can easily be pasted in your reference list (check the
,
icons). Details on the citation can be found in the » Terms of use (citation) section and in the help under » How to find the correct references and citation.
News
27th July 2015: New registration process
To facilitate the registration process, we have now added a » registration site. Just enter your name, institute and research interests and you will be provided with a login and password within a few days.
6th of May 2015: Version 6.0 launched online!!
Version 6.0 of freshwaterecology.info now offers - among others - the following new/additional features:
feature: ecological parameters are now accompanied by this icon. If you click on it you will get

background information

on the

ecological parameter

as well as on the

classification system

and the

abbreviations

used. Please

note

that you should allow

pop-up windows

to use this feature.
Directly below the each ecological parameter you will find the information for which higher systematic units it is available.
For the query of ecological parameters with more than one category to choose from, we have added the

option to only display taxa complying with the selected category

.
For a detailed overview on the current content, the numbers and percentages of assigned taxa (either ordered by parameter or by higher systematic unit) we created a

new content overview page

(» Content overview).

Macro-invertebrates

: several

new ecological parameters

were added (e.g. small-scale geographical distribution information and forewing length for Trichoptera, acid class, rheo-index, rhithral and potamal preferences as well as a climate change vulnerability index).
For some taxa we added information regarding existing ecological parameters.

Export options

: we optimised the query results export as well as the TVT export. You can now choose if missing values should be exported as "empty cells" or as "0 values".

Taxa Validation Tool (TVT)

: Upload of your own taxalists now also works with xlsx-files.

Citations

: We tried to facilitate the citation. Please be aware of the , icons. All citations are also included in your export. Details on the citation can be found in the section» Terms of use (citation) and in the help under » How to find the correct references and citation.
Additionally we updated the database in the background and optimised quality control features.
Please note: we are currently reviewing the ecological parameters of fishes and working on the classification of Odonata. These data will be available with the next update.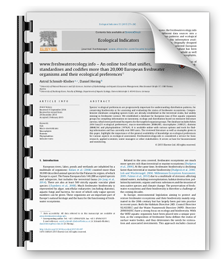 March 2015: Publication on freshwaterecology.info available
We have now published the work on freshwaterecology.info summarsing our efforts of the past ten years in Ecological Indicators:
Previous news
Previous news can be found in the » News archive.
Support
Currently powered by
Member of the